Welcome
Thanks for checking us out, you have come this far so you should know by now that we are an IT company who can help your business with any IT issues, as well as providing –
Remote & On-Site support
Office 365 & E-Mail
Anti-Virus
Cloud Back-up
IT Hardware
Wired & Wireless networking
Apple Accreditation
Benefits to signing up
Here at PC Paramedics we love to spoil our clients .. if you sign up to a 12 month support contract we will either cover your first 2 months costs or give you a free iPad! You choose! Even if your business is not able to take advantage of our professional IT services, why not refer us to a friend and if they sign up to monthly support .. you guessed it .. we will give you a free iPad! To be eligible for this offer the client must sign a 12 month support contract (minimum of 10 devices).
We have given loads away so far … grab some popcorn and watch us in action!
2020 issue 
Did you know that in 2020 Microsoft are ending support for multiple products, leaving them vulnerable to malware and cyber attacks. If you use the following, you're at risk!
• Windows 7
• Office 2010
• Exchange 2010
• Small Business Server 2011
• Windows Server 2008
Depending on the size of your business, you'll need to plan ahead as upgrading your existing software can be a time consuming task. In some cases, you might not even be able to upgrade, thus requiring new hardware.
All is not lost, get in touch and we will help you overcome this inconvenience. If you don't know which software you are currently using or are still not sure if this change will affect your business, let us know and we can check this for you. which leads me on to our Free IT Health Check!
Already got IT Support? Benchmark them now by clicking here!
Free IT Health Check
Our techs are the heart of our company and they are here to help you. Take advantage of them, ask us for a free no obligation IT Health check including an onsite visit/video call, Networking, IT support package recommendation and Hardware refits. Don't forget we are here to take the stress away from your IT, so you can focus solely on your business.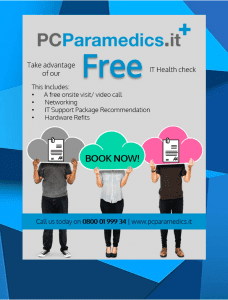 Are you following us on Social Media?
Click on the icons below and keep up-to-date with what we are doing via our social media platforms and blog posts –
Or head over to our website:  https://pcparamedics.it/
Non social ways to contact us
Email – help@pcparamedics.it
Telephone – 0800 01 999 34
Address – PC Paramedic Solutions Limited, Maple House, Norton Green Lane, Norton Canes, Cannock, Staffordshire, WS11 9SS